Connect your domain to branchbob
If you already have your own domain, you can connect it to your store in a few minutes. This is only working for Premium Plans or Domain Purchases.
As soon as someone enters your address in the browser, they will be taken directly to your store.
This requires two steps:
Step 1:
Setting a CNAME entry:
In this step we will show you how to create a CNAME record with your domain provider:
1: Log in with your domain provider
2: Search for the domain administration area
3: Find the DNS settings of your domain
4: Create a new CNAME entry in the DNS settings
5: Determine which subdomain you want to use: e.g. shop.xyz.de. However, the most frequently used subdomain is: www.
6: The CNAME record of this subdomain must point to domains19.branchbob.com (only for new domains)
7: Save entry (often by clicking on save)
Tip: To make your domain accessible without www., create an additional forwarding to your main domain, e.g. xyz.de is forwarded to www.xyz.de
Step 2:
Connect domain with your shop:
1. Click on the menu item "Domains" in "Store Settings".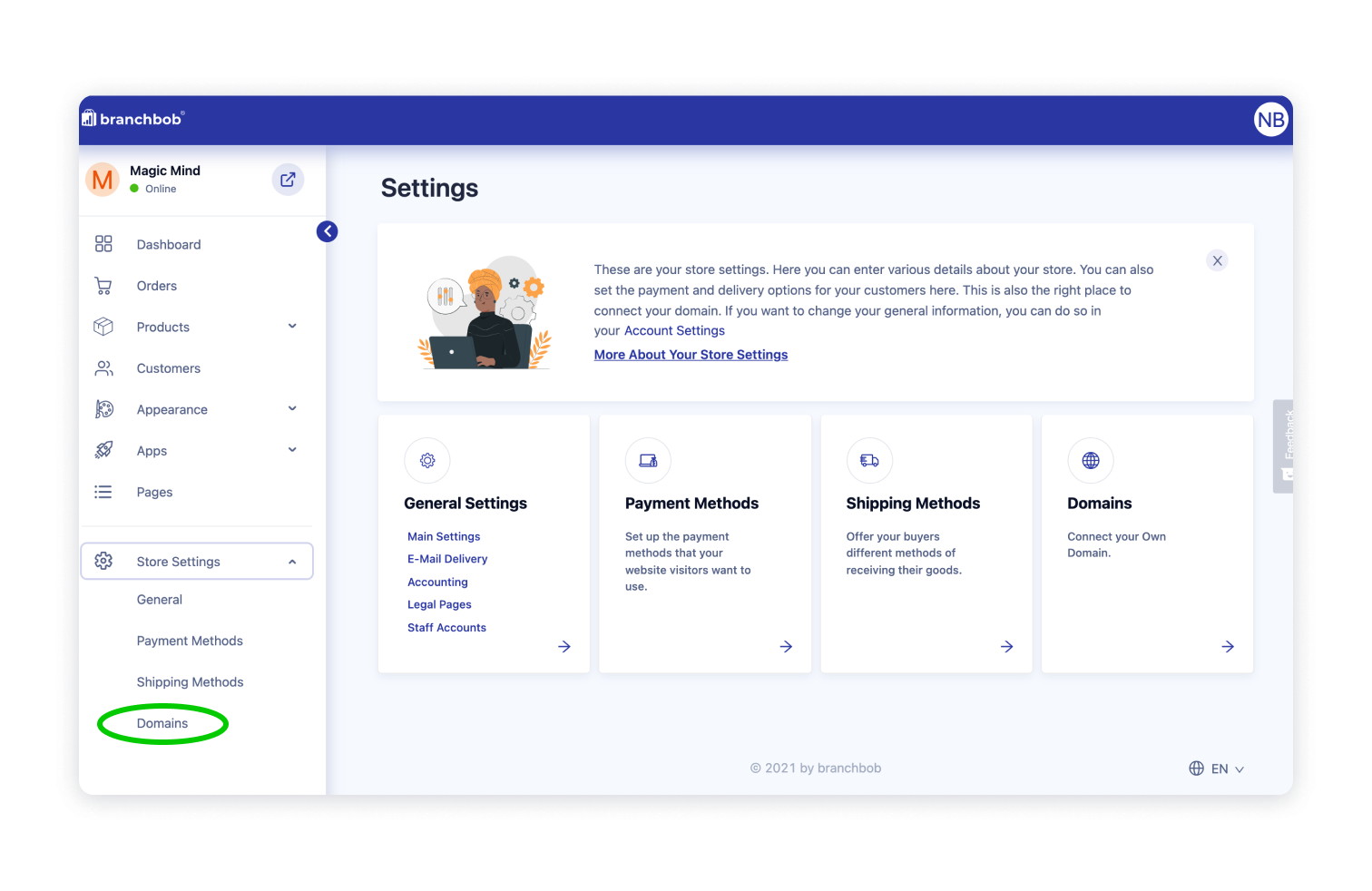 2. Click on the button "+ Add new domain''.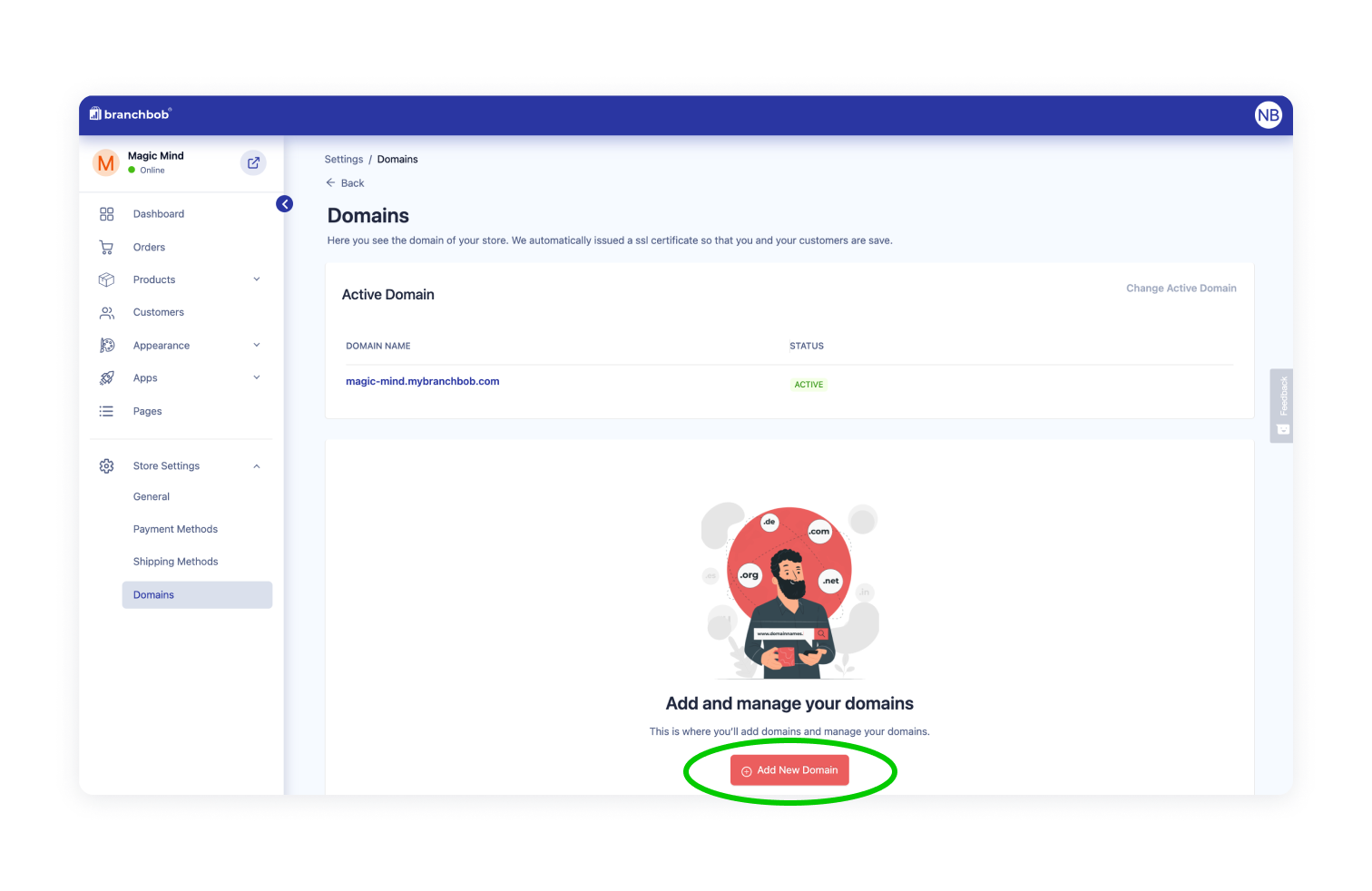 3: Enter your new domain (e.g. www.xyz.de).
4: Click on ''Save''.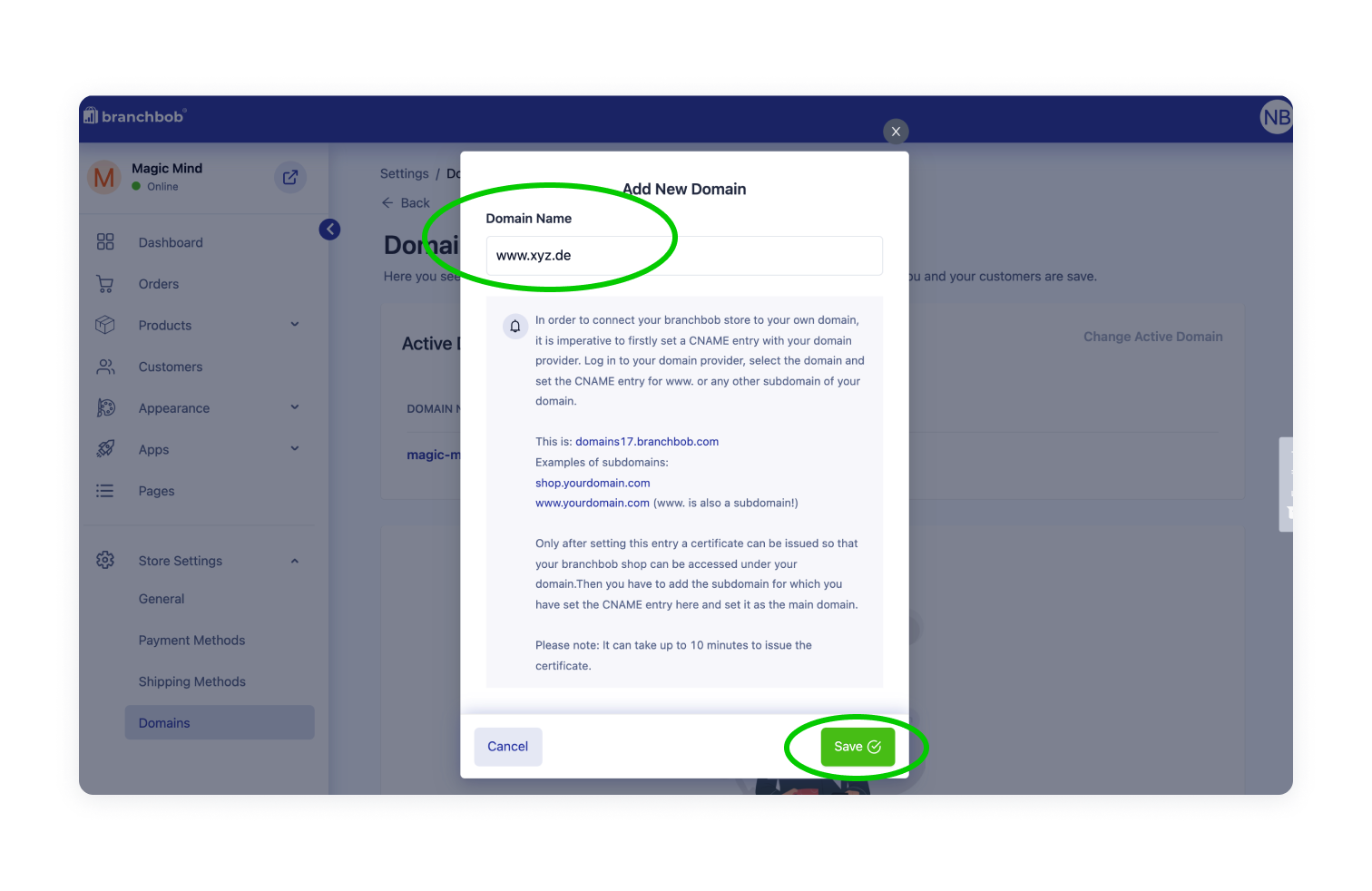 5: An SSL certificate for your new domain will now be created in the background. This process usually takes up to 10 minutes.
6: After 10 minutes you can check the status of the certificate by clicking the "Update Icon".
7: The certificate has been issued successfully.
Congratulations!
Your domain is now connected to your branchbob store.🎉
Information for your domain provider:
Your domain provider usually supports you with the setup. Tell him the following in a phone call or email: You need a CNAME entry for your subdomain (e.g. www. or any other subdomain), to the following destination url: "domains19.branchbob.com".
Need help with your setup?
If you have problems or need help with the domain setup, please contact the support of your domain provider in the first place. We can only provide limited support here, as every provider is structured differently.
Examples: How to set a CNAME record with your domain provider:

Godaddy:
https://de.godaddy.com/help/eine-cname-record-hinzufugen-19236?lang=en

Namecheap:
https://www.namecheap.com/support/knowledgebase/article.aspx/9646/2237/how-to-create-a-cname-record-for-your-domain
If you have any problems feel free to contact us under support@branchbob.com.