Coupons are a powerful tool for boosting customer engagement and increasing sales for your store. They offer a win-win situation, benefiting both the customers and the business. In this article, we will guide you through the process of creating coupons and explain why they are crucial for your e-commerce success.
You can find coupons here: Promotion → Coupons → Add Coupon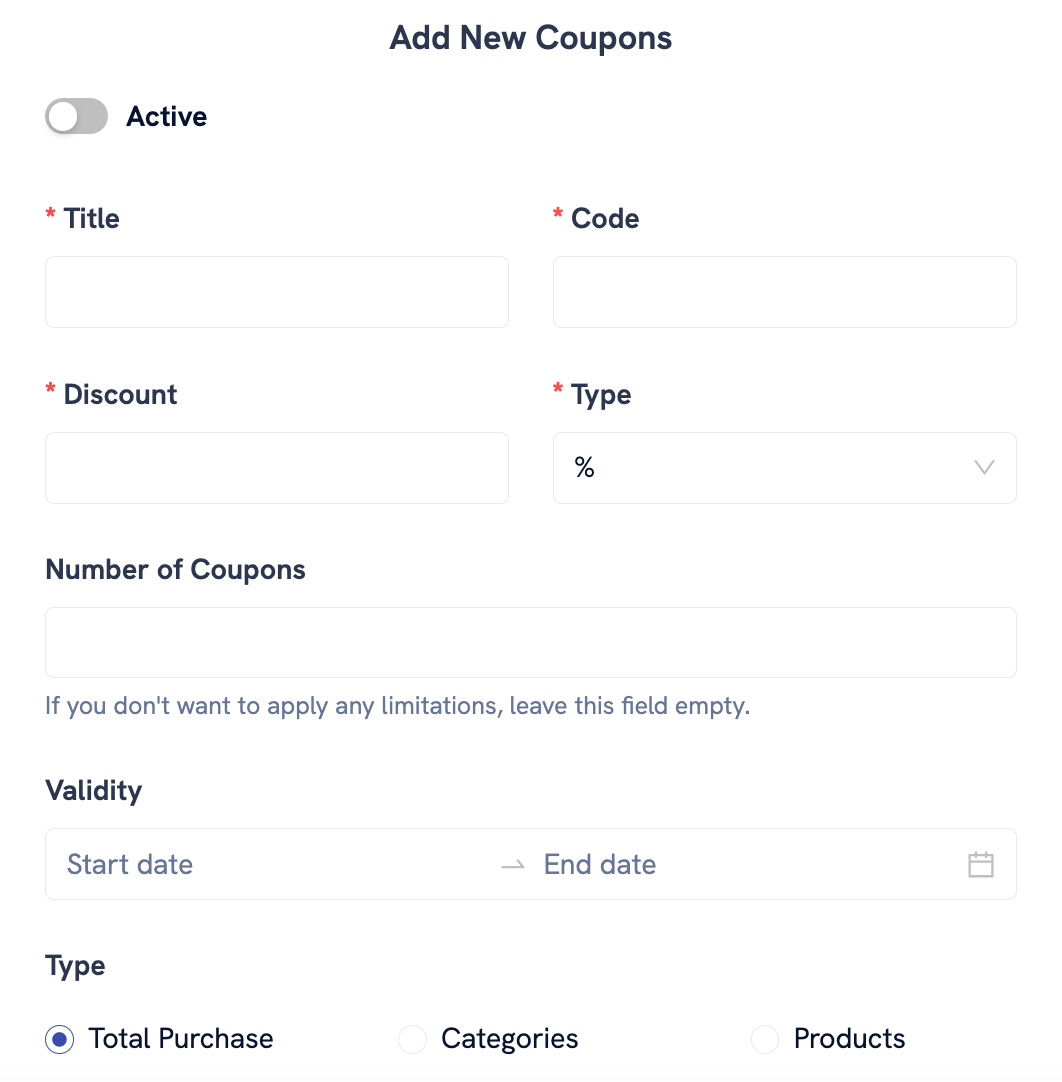 Define Coupon Details: Now, you can start defining the coupon details. Choose a unique coupon code that customers will use during checkout to apply the discount. Specify the discount type (percentage or fixed amount) and set the discount value. Additionally, you can set an expiration date for the coupon to create a sense of urgency.

Set Usage Limits (Optional): To control coupon usage, you have the option to set limits on the number of times a coupon can be used or the number of times it can be used by an individual customer.

Choose a type (Optional): You can apply limitations based products or categories.

Save and Publish: Review all the details you've entered and make sure everything is accurate. Save the coupon, and it will be ready for customers to use
The Importance of Coupons in E-Commerce
Coupons play a pivotal role in the success of any e-commerce business. Here's why they are so important:
Attracting New Customers: Coupons are a great way to attract new customers to your online store. Offering a first-purchase discount can encourage hesitant shoppers to make their initial purchase and experience your products or services.

Increasing Conversion Rates: Coupons can boost conversion rates by creating a sense of urgency. Customers are more likely to make a purchase when they know they can save money for a limited time.

Customer Retention: Coupons are not just for acquiring new customers; they also help retain existing ones. Offering exclusive discounts to loyal customers fosters a sense of appreciation and encourages repeat purchases.

Marketing and Promotion: Coupons can be a powerful marketing tool to promote specific products, seasonal sales, or special events. They can be shared via email newsletters, social media, or even printed materials.

Clearing Excess Inventory: Coupons are effective for clearing excess inventory. By offering discounts on slow-moving products, you can free up storage space and generate revenue.
For any questions you can contact us via support@branchbob.com.